How Does Watch Work
Learn how the classical watch movement works
What makes the watch tick?
No matter how complicated the watch is, the main parts that make the mechanism work, are always the same. Although it looks very complex, the main principle is ingeniously simple.
The main parts of each mechanical watch are just five: mainspring, gear train, balance wheel, escapement mechanism and indicating dial with rotating hands.
The mainspring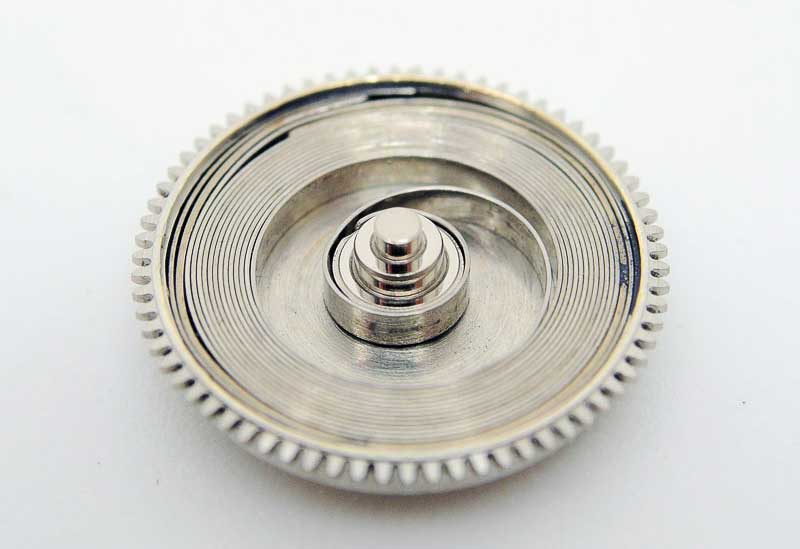 The mainspring is housed into a barrel. When you wind the watch by twisting the crown, you actually make the mainspring contract, thus generating kinetic energy. Then the mainspring starts to unwind, turning the barrel in which it is housed. The barrel is geared to the gear train and the energy from the wound spring is released into the gear train.
The Gear Train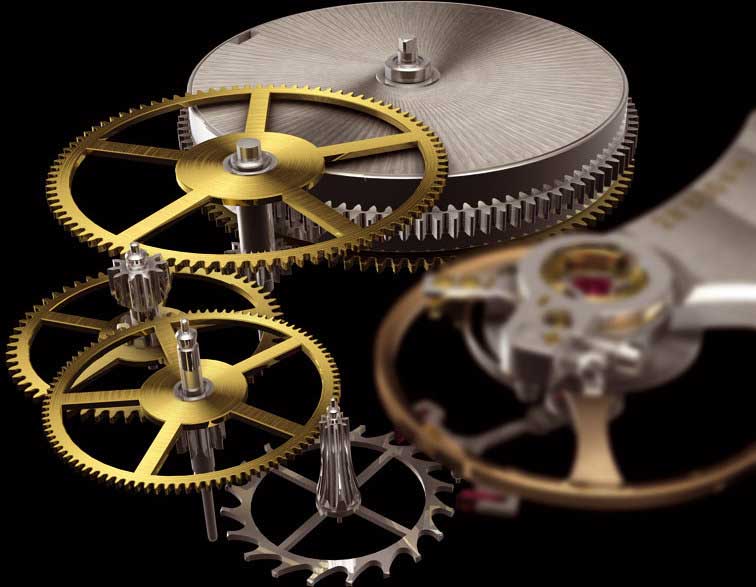 Escapement Mechanism and Balance Wheel
The escapement is the device through which the back-and-forth motion of the balance wheel controls the continuous rotating movement of the gear train. Key to this is the rocking escape lever that permits only one of the 15 teeth of the escape lever to move by at a time and translates that movement into the steady rotation of the hands on the display. The balance wheel is the element that keeps time for the watch. It consists of a weighted wheel and a fine spiral spring (also called hairspring). Every time the escapement pushes the balance wheel in one direction, the hairspring returns it back toward its center position.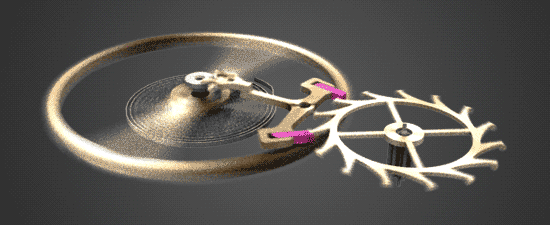 And so, the escapement keeps the balance wheel moving by giving it a push with each swing. Every time the oscillator swings, it releases the escapement (thus allowing the gears to "escape"), changing the gears from "locked" to "drive" for that short period of time, ending when the subsequent tooth of the gear hits the locking surface of the escapement causing the watch to tick. Balance wheel's vibration rate is measured in Beats Per Hour. One beat is equal to one swing of the balance wheel (between reversal of directions). So there are two beats in one complete cycle of the balance wheel. Most of today's movements have a rate of 8 beats per second (which equals to 28,800 beats per hour).
The Hands
The movement of the hour, minute and second hands is achieved by transferring the energy from the mainspring through the gear train and is regulated by the balance wheel. The number of gear teeth and reduction ratios between wheels are designed in a way that allows the minute wheel (the wheel that has the minute hand attached to it) to make one full revolution in one hour. The hour wheel makes one full revolution in 12 hours, and the second wheel – in 1 minute.
Okay… but how does watch work, really?
The working principle of the mechanical watch is nicely visualized in this video:
---
Please share if you enjoyed this article