101 Amazing Facts About Watches
Amazing Fact #101
The most complicated mechanical watch ever created is Vacheron Constantin reference 57260 pocket watch. The numbers behind the creation of this unique masterpiece are astonishing.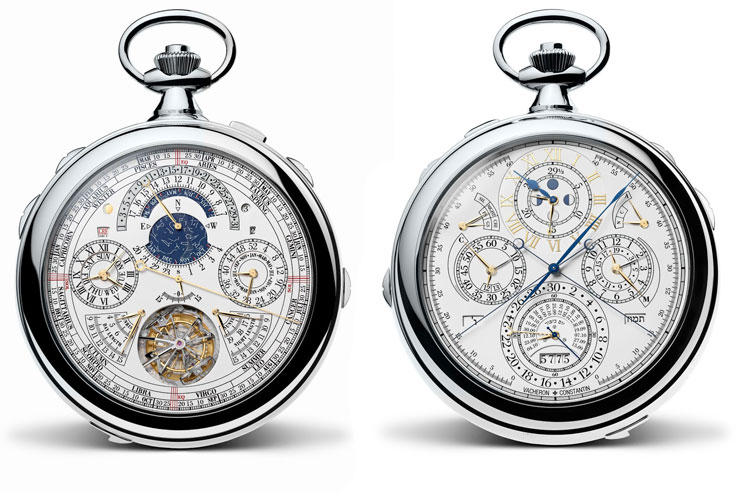 The creation process took eight years of research, prototyping, manufacturing, and assembly. 85 prototypes were created before the final product, and only the drawings made in the process weight 16 kg. The watch has 2,826 components, 57 complications, and 242 jewels. No wonder that such a complex mechanism comes at a price. The watch has 33 hands and two faces (there's just not enough space to fit all of the hands and scales on just one face). The diameter of the case is 10 cm, and the thickness is 5 cm., and the watch weights almost a kilo (957 grams).
The price of the watch, agreed between the undisclosed owner and the company, is confidential, but it is believed to exceed $10 million.
One Hundred More Interesting Facts About Watches
What do the watch collectors call 'the dirty dozen' and why do they prize these watches so high?
Everyone knows that Omega Speedmaster is the watch that flew to the Moon. But do you know that the Speedmaster played a critical role in allowing the Apollo 13's crew safe return to Earth?
Do you know why watches on display in shops are always pre-set to ten minutes past ten?
These are just three of the one hundred interesting facts and stories about watches, compiled by ROX in a comprehensive, well organized, images-rich article. Many of these facts are not widely known and thus would be enjoyed by novices and experts alike.
Please follow the link below to read the full article.
---
Please share if you enjoyed this article